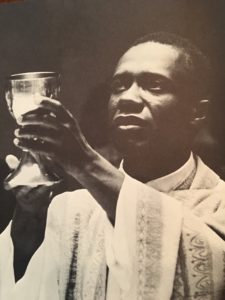 Fr. Clarence-Rufus J. Rivers (1931-2004) was a pioneering priest and liturgist, artist, composer, author, presenter and activist. Fr. Rivers was the first African-American person to be ordained to serve the Cincinnati Archdiocese in 1954. He was associate pastor at St. Joseph Parish in Cincinnati, where he experimented with composing music for the new English-language liturgy out of his own tradition of African-American sacred song. In doing so, Fr. Rivers "single-handedly started a revolution" in Catholic liturgical life and music, wherein composers felt free to compose music out of various folk traditions for Catholic liturgy. The result has profoundly shaped the way Catholic liturgical music sounds in North American today.
Emily Strand was the last person to academically interview and study Fr. Rivers' life and work before his death in 2004. He forms the subject of her Master's thesis for the University of Dayton, and his life and work is a major inspiration for her own ministry in liturgy and music.
Read Fr. Rivers' 2004 obituary here and watch this space for occasional posts sharing the challenging insights Emily gained about liturgy, music, race and history from her exclusive interviews with Fr. Clarence Rivers.